The city of Laval has grown over the last decade and more and more businesses are opening up and thriving. Populated by a diverse mix of nationalities, you will be able to find any services, restaurants, products, stores of your liking without going into Montreal or the West Island.
Everything is at your fingertips!
Even though this city is growing rapidly, if your business or website is not well positioned in the Google search engines, you will not be able to grow and make any profits. As a local SEO company based in Montreal we understand and know what it takes to rank on the first page and to dominate your competition.
By being in the top 10 of the major search engines, your potential target audience will be able to find you and become a client if you provide the information that they are searching for.
Our Results Speak For Themselves
Here are just a few of the many major cities we rank in. We hold many positions on Page 1 against our competition. We can do the same for your business!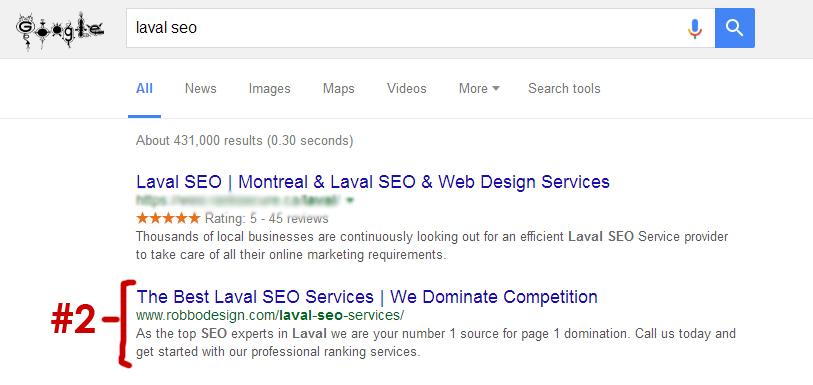 If you have a company or business in Laval, Quebec, SEO services are very important to help your business grow and prosper. SEO has, for many years, been an essential part of online advertising and the majority of the large businesses have already incorporated it into their own marketing strategy.
Small business owners may not be entirely clear on the advantages of online advertising, let alone the importance of SEO, but they do need to explore their SEO options so you don't get left behind and so you can get lots of new visitors from Google.
Search engines assist people in locating answers to simple queries on the world wide web such as the location of a favorite restaurant in your area or a good interior designer. By typing specific keywords into a search engine, individuals have access to a number of results arranged in order of importance or relevance to the keywords entered.
The search engines like Google drive the internet. Basically, search engine optimization helps people find information on the Internet by using reference words or keywords. We want to help you dominate the search engines and get plenty of new clients… we want your phone to ring off the hook with qualified excellent customers!
If you want to be #1 in the real Google search engines, please fill out our form or pick up the phone and give me a call at (514) 436-8027. (Leave a message if I don't answer)
---